Facing the Camera
---
Posted on June 14, 2016 at 07:11 AM
---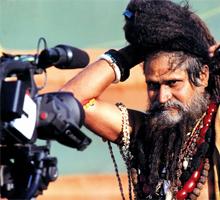 While roaming in Kumbh Mela, I spotted a man with tresses and displaying it for somebody. Moments earlier I'd observed an angry 'sacred man' running after a lady to hit her with his tong. She had asked for his blessings a second time and this made him so furious. Babas can be seen running, hitting or abusing pilgrims for crossing a line, aiming camera at them or making their pictures without offering any alms. And a contrast was here, a cool 'sacred man' was doing whatever being asked. It was a bizarre experience, especially after seeing the lady in panic. Baba Gopi Giri untied tresses longer than his own height, picked them high, gave a gentle smile gazing directly into the lens and gradually pulled it to tie.
The person behind the camera was Naeem Uddin, a documentary film maker from U.S., who asked for my credentials and requested his picture with Gopi Giri. Later on he suggested,'Why don't you do story on me. Coming straight from US and doing a film on Kumbh. This will be a interesting story for your newspaper.'
Later on a senior photographer revealed the secret, foreign media persons or individuals generally operate through fixers and this is why no hassle.